Journal Transplantation Case Reports (ISSN 2733-2527)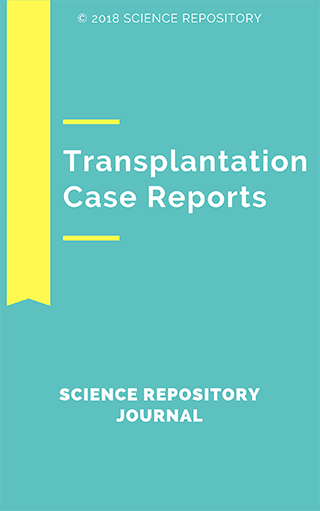 All the work at Science Repository is licensed under a Creative Commons Attribution 4.0 International License. Authors at Science Repository retain copyright to their work and allow others to copy, distribute, transmit, and adapt their work, provided proper attribution is given.



This license lets others distribute, remix, tweak, and build upon your work, even commercially, as long as they credit you for the original creation. View License Deed | View Legal Code

For submission authors can directly submit manuscript to submitmanuscripts@sciencerepository.org
Manuscripts number will be provided to the corresponding author within 72 hours for the respective manuscript submitted.
14 day review process with international peer-review standards
Timeline of processing from Submission to Publication is 30 days
Manuscript will be published within 7 days of acceptance
In Press Volume 1, Issue 2
Editor-in-chief
Will be updated soon
Editorial board
William David Stoll
Associate Professor
Department of Anesthesia and Perioperative Medicine
Medical University of South Carolina
United States
About Me
William David Stoll, MD, FASA - Associate Professor of Anesthesia and Perioperative Medicine Division Chief of Liver Transplant Anesthesia. Associate Faculty Member, College of Graduate Studies Medical University of South Carolina, Charleston. Clinical and Research Interests: Anesthesia for Abdominal Transplant Surgery. Anesthesia for Head and Neck Surgery. Human Factors and Error Reduction in Anesthesia. Regional Anesthesia in Transplant Patients.
Vandamme Thierry
Professor
University of Strasbourg
France
About Me
Thierry Vandamme obtained his PhD in Pharmaceutical Sciences in 1994 at the catholic University of Louvain in Belgium. After its PhD thesis, he carried out two post-doctoral training courses, the first one at the University of Stanford in California (01.01.1995 - 31.12.1995) in the Laboratory of Dr. Jorge Heller (Laboratory of synthesis of biodegradable polymers) and the second one at the School of Pharmacy in London (01.01.1996 - 31.08.1996) in the research team of Professor Ruth Duncan (Laboratory of therapeutic polymers). In 1996, he became lecturer at the University Louis Pasteur of Strasbourg and was promoted Professor in Biogalenics in February 2005 on an employment "Fillon". Its research activities is undertaken within the Department of Bioorganic Chemistry (UMR7199) and the main aim of this research activities are based on the developments of new systems of delivery of drugs. Its research activities and its laboratory are located in the Faculty of Pharmacy of the University of Strasbourg.
Sanem Guler Cimen
Department of General Surgery
University of Health Sciences, Diskapi Training and Research Hospital
Turkey
About Me
Sanem Cimen is the founder of The Kidney Transplant program in Dıskapı Research and Training Hospital, one of the biggest government hospitals in Turkey, Ankara. She also gives lectures in the University of Health Sciences and International Transplant Network on Abdominal Procurement Surgery, Kidney Transplantation, and Deceased Donation. She finished her general surgery training in Turkey and moved to North America to gain expertise on transplant surgeries in 2011. Between 2011 and 2012 she worked as a surgical fellow at The Cleveland Clinic. Afterward, she spent 4 years at the Dalhousie University of Canada where she performed over 200 deceased donor kidney transplantations. During her time in Canada, she also got accustomed to ethical issues around DBD, DCD and related legislation. Since 2016 she is appointed as an Associate Professor of Surgery with half time interest in Transplant and ESRD clinical research. As a lifelong learner, she also is a master's student studying in Distance Education and e-Learning, which will give her the chance to connect with doctors and patients located in outreach areas of Turkey. Credentials: She was awarded Canadian Institutes of Health Research Grant as well as ESOT Study Grant with her research. She received her ASTS accreditation and ESOT Diploma on Kidney-Pancreas Transplantation in 2017. Sanem Çimen is the author of more than 30 innovative research articles and book chapters on Transplantation and Kidney Transplant Outcomes published in Annals of Transplantation, Transplantation and other reputable transplant journals.
Umberto Baccarani
Professor
Department of Medicine & Biological Sciences
Univerisity of Udine
Italy
About Me
I am a transplant surgeon with a main interest in liver and kidney transplantation. My research focuses on several fields in liver and kidney transplantation from organ harvesting and conservation to I/R protection, surgical techniques, and outcomes. I did my Academic career at the University of Udine where now I am appointed as an Associate Professor of Surgery. I took my Ph.D. with a thesis on human hepatocytes isolation, banking and transplantation at the University of Udine. I was also trained in clinical transplantation and research at Cedars Sinai Medical Center UCLA, Los Angeles-USA and at the Department of Hepato-Biliary Surgery, Service de Chirurgie Hépato-Bellaire, Hôpital Beaujon, Assistance-Publique Hôpitaux de Paris. I also had a clinical and research collaboration with The Department of the Surgery University of Nagasaki, Japan for liver transplantation in HIV positive patients.
Bogdan Dorobanțu
Assistant Professor
Department of General Surgery and Liver Transplantation
Carol Davila University/ Fundeni Clinical Institute
Romania
About Me
HPB and organ transplantation surgery enthusiast, with training in France, Italy and as an observer in the USA. Lecturer at Carol Davila University of Medicine and Senior attending surgeon at Fundeni Clinical Institute from Bucharest, author of several papers and book chapters with HI of 7.
Nouh Saad Mahgoub Mohamed
Researcher
Department of Molecular Biology
National University Biomedical Research Institute
Sudan
About Me
Experienced Researcher with a demonstrated history of working in the medical practice industry as a researcher assistant for more than three years, also as a teaching assistant for four years in different educational universities. Highly Skilled in PCR, PCR-RFLP, RT-PCR, Primer Design, ELISA, SDS-PAGE, and Microscopy. Highly competent and urge to work on malaria research, especially P. falciparum malaria. Gained passion through lifetime experience during working on the field of Molecular Parasitology and Medical Entomology. Highly passionate in all research disciplines including Cancer research, Microbiology, Histopathology.
Umang Gunvantray Thakkar
Associate Professor
Deparment of Regenerative Medicine & Cell Therapy and Department of Paediatrics
Institute of Kidney Diseases and Research Centre and Institute of Transplantation Sciences (IKDRC-ITS)
Ahmedabad, India
About Me
Dr. Umang G Thakkar got his DCH (Paediatrics) from India and has 12-year experience in the field of regenerative medicine. Currently he is working at G.R. Doshi and K.M. Mehta Institute of Kidney Diseases & Research Centre (IKDRC) - Dr. H.L. Trivedi Institute of Transplantation Sciences (ITS), Ahmedabad, India. His research interests are stem cell therapy for treatment of various neurological disorders, cardiac disorders, autoimmune diseases like type-1 diabetes mellitus, systemic lupus erythematous etc. He has > 40 publications in various medical journals. He is included as editorial board member as well as reviewer in various journals. He wrote the book on stem cell therapy for glomerular diseases in Editions Universitaires Europeennes by Omni Scriptum GmbH & Co. KG; and also wrote a book chapter on Stem cell therapy for type-1 diabetes mellitus by Phuc Van Pham (Editor) in "Pancreas, Kidney and Skin Regeneration- STEM CELLS IN CLINICAL APPLICATION" (Springer international publishing AG 2017). He has also attended national and international conferences and presented the research papers. He received the Government Scholarship and distinguished Awards in the past. He was granted a 'Young Investigator Award in TTS 2016' at HONG KONG, for his research paper: Stem cell therapy as an emerging modality for post-traumatic paraplegia and for renal parenchymal diseases.
Edward John Filippone
Associate Professor
Department of Medicine
Thomas Jefferson University Hospital
United States
About Me
Active clinical practice for 35 years. Current research interest involves optimization of HLA antibody determination.
Ahmet Gurakar
Medical Director
Department of Liver Transplantation
Johns Hopkins University School of Medicine
Baltimore, United States
Ahmed Zidan
Assistant Consultant
Department HPB and Liver Transplantation
King Faisal Specialist Organ Transplant Center
Saudi Arabia
Kiran K Upadhyay
Assistant Professor
Department of Pediatric Nephrology and Transplantation
University of Florida
United States
Mikel Prieto Calvo
Associate Professor
Department of Surgery
University of the Basque Country
Spain
Current Issue Volume 1, Issue 1
Submit Manuscript
You can submit your manuscript at Science Repository. Authors submit manuscript files and metadata & can request for revision. Editors use the system to review submissions, assign to reviewers, and make and communicate decisions to accept, revise, transfer or reject manuscripts. Reviewers are invited to work on manuscripts, can accept or reject assignments.
For submission authors can directly submit manuscript to submitmanuscripts@sciencerepository.org
Manuscripts number will be provided to the corresponding author within 72 hours for the respective manuscript submitted.
14 day review process with international peer-review standards
Timeline of processing from Submission to Publication is 30 days
Manuscript will be published within 7 days of acceptance
Publication Charges
Transplantation Case Reports is an Open Access journal and we do not charge the end user when accessing a manuscript or any article. This allows the scientific community to view, download, distribution of an article in any medium, provided that the original work is properly cited, under the term of "Creative Commons Attribution License".
In line with other open access journals we provide a flat fee submission structure on the acceptance of a peer-reviewed article which covers in part the entirety of the publication pathway (the article processing charge). The process includes our maintenance, submission and peer review systems and international editing, publication and submission to global indexing and tracking organisations and archiving to allow instant access to the whole article and associated supplementary documents. We also have to ensure enough investment to secure a sustainable model which ethically, legally and financially stable.
The publication charge for Transplantation Case Reports is £ (GBP) 1099.
Frequently Asked Questions (FAQs)
Why do we charge?
All articles published in Science Repository are open access. Open Access publishing implies that all readers, anywhere in the world, are allowed unrestricted to full text of articles, immediately on publication in Science Repository Journals. The Article Publication Charges pay for the editorial and production costs of the journal, for hosting the website, publishing articles online, preparing HTML , PDF and XML versions of the articles and submitting the articles in electronic citation database like CrossRef.
Our financial goals are to:
Maintain the portal for best experienece
Recover capitalization cost
Produce sufficient revenue to allow for a sustainable and scalable publishing program, under continuous development
Although we charge the minimum possible but we will reduce the publication-charge cost downward over time.
When should I pay?
Corresponding author or the paying institutions should arrange for the payment once they are notified regarding acceptance of the article. APC is exempted for cases in which a wavier agreement has been made in-prior to submission.
*We request an immediate attention towards the payment as the articles will not be published unless the charges have been paid.
Who will pay the APC (Article Processing Charges)?
Corresponding author or Co-authors has to make the payment on acceptance of the article.
How do I pay?
Authors or institutions can make payments by two modes as per their convenience.
Note: No taxes are included in this charge, taxes will be applicable as per the policies of the country of the payee. Additional transaction gateway charges may be levied on the payee.
Do I have to pay if my manuscript is rejected?
No, Article processing charges will not be applicable for articles rejected by the Editorial office.
Can I be eligible for wavier on APC?
The waiver request will be considered on a case-by-case basis, and will be provided accordingly.
*The Waiver requests must be made during the submission process and will not be accepted after processing of the manuscript.
Withdrawal Charges
Please check our Refund Policy
Are reprints of my article included in the article processing charges (APCs)?
No, Article processing charges (APCs) do not include the charges for the reprints. Reprints facility is optional and should be order separately.
For more details you can refer to FAQs or contact us support@sciencerepository.org
Archive
We are currently preparing the archive. Will be updated soon.