Journal Spine and Surgery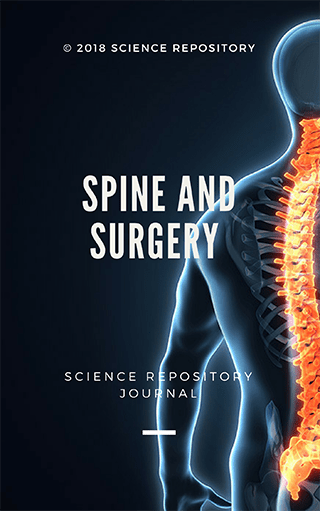 All the work at Science Repository is licensed under a Creative Commons Attribution 4.0 International License. Authors at Science Repository retain copyright to their work and allow others to copy, distribute, transmit, and adapt their work, provided proper attribution is given.



This license lets others distribute, remix, tweak, and build upon your work, even commercially, as long as they credit you for the original creation. View License Deed | View Legal Code

For submission authors can directly submit manuscript to articles@sciencerepository.org
Manuscripts number will be provided to the corresponding author within 72 hours for the respective manuscript submitted.
14 day review process with international peer-review standards
Timeline of processing from Submission to Publication is 30 days
Manuscript will be published within 7 days of acceptance
In Press Volume 2, Issue 1
Editor-in-chief
Will be updated soon
Editorial board
Stephanie A. Kolakowsky-Hayner
Director of Rehabilitation Research
Rehabilitation Research Center
Santa Clara Valley Medical Center
United States
Biography
Dr. Stephanie Kolakowsky-Hayner is the Director of Rehabilitation Research at Santa Clara Valley Medical Center in San Jose, CA. She is the Project Director of the Northern California Traumatic Brain Injury Model System of Care Follow-up Center and the Northern California Spinal Cord Injury Model System of Care Follow-up Center. Dr. Kolakowsky-Hayner holds an appointment as a Clinical Assistant Professor Affiliated in the Department of Orthopaedic Surgery, Stanford University School of Medicine and is also a the Vice-Chair of the Brain Injury Association of California Board of Directors. In addition to being the proud mom of 5 school-aged children, she actively serves on the ACBIS Board of Governors, and the Bay Area Brain Injury Task Force, American Spinal Injury Association's Prevention Committee and the American Congress of Rehabilitation Medicine's Early Career Committee, Early Career Course Planning Committee, Policy and Legislation Committee, and is the co-lead for the conference planning subcommittee of International Networking Group. Dr. Kolakowsky-Hayner's main interests include peer mentoring, ethnicity and cultural issues, return to work, family and caregiver needs, and substance use after injury. To date, Dr. Kolakowsky-Hayner has made more than 130 professional presentations and published over 150 peer-reviewed manuscripts, book chapters, and other information materials for professionals and consumers with disabilities.
Joe E. Springer
Professor and Vice Chair for Research
Spinal Cord and Brain Injury Research Center
University of Kentucky
United States
Biography
Dr. Springer had completed a F32 funded postdoctoral fellowship in 1988 at the University of Rochester and joined the Department of Neurology at Hahnemann University as an Assistant Professor and was then promoted to Associate Professor with tenure in 1992. During this time, my research focused on events controlling the regulation of neurotrophic factor gene expression in the central nervous system and how this might be related to certain neurodegenerative disorders including Alzheimer's Disease and ALS. In 1995, I joined the Department of Anatomy and Neurobiology at the University of Kentucky and changed my research focus to the study of secondary injury following spinal cord injury (SCI). I currently hold the position of Vice Chair for Research in the Department of Physical Medicine and Rehabilitation where my role is to promote translational research and collaborative opportunities between the University of Kentucky and Cardinal Hill Rehabilitation Hospital. I have served on the editorial board of several journals and have been a member of a number of NIH study sections. My lab was the first to demonstrate and characterize the potential efficacy of riluzole as a treatment for acute SCI. A multi-center clinical trial is currently underway. We then began studies to understand cell death mechanisms and, applying research discoveries from the immune system literature, were able to identify part of the signaling pathways contributing to caspase-3 activation after SCI. We extended our studies to include the role of mitochondria as mediators of cell death signaling as well as a source of free radical production. Our current studies include examination of inhibitors of the mitochondrial permeability transition state and mitochondrial-targeted free radical scavengers as methods to reduce ongoing secondary injury and promote functional recovery.
Jasvinder A. Singh
Associate Professor
University of Alabama
United States
Biography
Dr. Singh is a rheumatologist-epidemiologist at the University of Alabama at Birmingham and a staff physician at the Birmingham Veterans Affairs Medical Center. Dr. Singh′s research interests include systematic reviews and meta-analyses of treatments for arthritis, outcomes research in patients with osteoarthritis, gout and joint replacement focused on patient-reported outcomes, quality of care assessment and development of treatment recommendations and quality indicators.
Miranda Mladinic
Department of Neurology
University of Rijeka
Croatia
Biography
Dr. Miranda Mladinić was born on 12 July 1967, in Zagreb, Croatia. In 1992, He took the B.Sc. in Molecular Biology at the University of Zagreb, Faculty of Natural Science and Math. After short work as a teaching assistant at the Department of Molecular Biology, University of Zagreb (1992-1993), he moved to Trieste, Italy, at the International School for Advanced Studies (SISSA/ISAS) for his PhD studies. After taking the PhD degree in Biophysics in 1997, he continued to work at SISSA, first as a post-doctoral fellow and later as a researcher, studying molecular mechanisms underlying the regeneration and cell death after spinal cord injury. In 2009, he worked as a lecturer at the Biotechnology course of the Medical School, University of Trieste, and in 2012 he have obtained the Professorship at the Department of Biotechnology, University of Rijeka, Croatia.
Stuart M Goldman
Department of Podiatric Medicine
American Board of Podiatric Surgery
United States
Biography
Dr. Goldman graduated from the Pennsylvania College of Podiatric Medicine in 1980 and served his surgical residency in Orlando General Hospital where he then served as Chairman of the Department of Podiatric Surgery. He has studied the foot and leg symptoms of spinal stenosis for 20 years, focusing on both differentiation from other conditions causing lower extremity symptoms, and conservative management of spinal stenosis symptoms. He has published his findings on spinal stenosis in Diabetes, Podiatry, and Family Practice journals, and is involved in ongoing research on this and related subjects. He lives in Baltimore USA with his wife and 5 children.
Stephen M. Onifer
Professor
Spinal Cord and Brain Injury Research Center
University of Kentucky
United States
Biography
Dr, Onifer has a broad expertise in central nervous system injury and repair specifically as it relates to traumatic spinal cord injury (SCI). After completing his American Heart Association fellowship-funded thesis project about functional, embryonic neural cells transplantation for the ischemic brain at Indiana University School of Medicine, he went to The Miami Project to Cure Paralysis at the University of Miami School of Medicine for post-doctoral training. He evaluated the fate of neural progenitor cells following transplantation into the normal and injured brain and spinal cord. Subsequently, he assisted with the development of the second, clinically relevant adult rat model of contusive cervical SCI. After being promoted to Instructor in the Department of Neurological Surgery, he used his foundation grant funding to test hypotheses about functional axonal regeneration following transection thoracic SCI. Upon joining the Departments of Neurosurgery and Anatomical Sciences & Neurobiology at the University of Louisville as an Assistant Professor, he used his NIH/NINDS RO1 grant funding and NIH/NCRR/COBRE project funding to test hypotheses about functional sensory axonal regeneration after laceration cervical SCI. He also was a founding faculty member of the Kentucky Spinal Cord Injury Research Center. As a Research Assistant and Associate Professor in the Spinal Cord & Brain Injury Research Center and Department of Anatomy & Neurobiology at the University of Kentucky College of Medicine, he is using his Kentucky Spinal Cord & Head Injury Research Trust grant funding to further test a hypothesis derived from his previous NIH funding projects. It is that combining chondroitinase ABC administration, to degrade inhibitory chondroitin sulfate proteoglycans and promote sensory axon collateral sprouting, after laceration cervical SCI with forelimb rehabilitation will improve forelimb function recovery. His long-term goal is to translate adaptive plasticity treatments to spinal cord injured persons. As a faculty member, he has been the primary mentor of M.D./Ph.D., graduate, medical, undergraduate, and high school students during their research training. He annually gives presentations about a SCI research career to high school students. He also serves as a volunteer and liaison to a community-based SCI organization. He also reviews neurotrauma-related grants and manuscripts.
Walid Ismail El Shahat A Attia
Consultant Neurosurgery/ Spine surgery
Departments of Neurosurgery/ Spine Surgery
National Neuroscience Institute
King Fahad Medical City, Saudi Arabia
Biography
Dr Walid Ismail El Shahat Aly Attia has received his PhD in Neurosurgery from Shinshu University School of Medicine during the period of 2003. Currently, he is working as Consultant in Departments of Neurosurgery/ Spine Surgery in National Neuroscience Institute, King Fahad Medical City. He has successfully completed his Administrative responsibilities. His research has included Microvascular pathology, cervical kyphotic deformity, Minimally invasive surgery. Based on this research and fellowship training he has received several awards and honors, such as: Recipient of the Outstanding Graduation award (top 30 graduates) in the Republic High School Diploma examination, the Egyptian Ministry of Education. 1986 and Recipient of the Outstanding Graduation award and Honors, Tanta University Faculty of Medicine (4th on class of 320 graduates) 1992. He is serving as an editorial member of several reputed journals like Journal of Medicine and Medical Science, Journal of Psychiatry and Neuroscience, Journal of Clinical and Experimental and many more. He has authored approximately 8-9 research articles and 7 books.
Hiroshi Kuroki
Associate Professor
Department of Orthopaedic Surgery, Faculty of Medicine
University of Miyazaki
Japan
Andrew Joshua Kobets
Feinstein Institute for Medical Research
United States
Bassetto Franco
Professor
University of Padova
Italy
Vedat Goral
Professor
Department of Gastroenterology
Istanbul Medipol University School of Medicine
Turkey
Abdelmonem Awad M. Hegazy
Professor
Zagazig University
Egypt
R.G. Mausefauser
Associate Professor
Eaton Centre University
Canada
Massimiliano Tripoli
Department of Plastic and Reconstructive Surgery
University of Palermo
Italy
Current Issue Volume 1, Issue 1
Submit Manuscript
You can submit your manuscript at Science Repository. Authors submit manuscript files and metadata & can request for revision. Editors use the system to review submissions, assign to reviewers, and make and communicate decisions to accept, revise, transfer or reject manuscripts. Reviewers are invited to work on manuscripts, can accept or reject assignments.
For submission authors can directly submit manuscript to articles@sciencerepository.org
Manuscripts number will be provided to the corresponding author within 72 hours for the respective manuscript submitted.
14 day review process with international peer-review standards
Timeline of processing from Submission to Publication is 30 days
Manuscript will be published within 7 days of acceptance
Publication Charges
Spine and Surgery is an Open Access journal and we do not charge the end user when accessing a manuscript or any article. This allows the scientific community to view, download, distribution of an article in any medium, provided that the original work is properly cited, under the term of "Creative Commons Attribution License".
In line with other open access journals we provide a flat fee submission structure on the acceptance of a peer-reviewed article which covers in part the entirety of the publication pathway (the article processing charge). The process includes our maintenance, submission and peer review systems and international editing, publication and submission to global indexing and tracking organisations and archiving to allow instant access to the whole article and associated supplementary documents. We also have to ensure enough investment to secure a sustainable model which ethically, legally and financially stable.
The publication charges for Spine and Surgery are £ (GBP) 1099.
Frequently Asked Questions (FAQs)
Why do we charge?
All articles published in Science Repository are open access. Open Access publishing implies that all readers, anywhere in the world, are allowed unrestricted to full text of articles, immediately on publication in Science Repository Journals. The Article Publication Charges pay for the editorial and production costs of the journal, for hosting the website, publishing articles online, preparing HTML , PDF and XML versions of the articles and submitting the articles in electronic citation database like CrossRef.
Our financial goals are to:
Maintain the portal for best experienece
Recover capitalization cost
Produce sufficient revenue to allow for a sustainable and scalable publishing program, under continuous development
Although we charge the minimum possible but we will reduce the publication-charge cost downward over time.
When should I pay?
Corresponding author or the paying institutions should arrange for the payment once they are notified regarding acceptance of the article. APC is exempted for cases in which a wavier agreement has been made in-prior to submission.
*We request an immediate attention towards the payment as the articles will not be published unless the charges have been paid.
Who will pay the APC (Article Processing Charges)?
Corresponding author or Co-authors has to make the payment on acceptance of the article.
How do I pay?
Authors or institutions can make payments by two modes as per their convenience.
Note: No taxes are included in this charge, taxes will be applicable as per the policies of the country of the payee. Additional transaction gateway charges may be levied on the payee.
Do I have to pay if my manuscript is rejected?
No, Article processing charges will not be applicable for articles rejected by the Editorial office.
Can I be eligible for wavier on APC?
The waiver request will be considered on a case-by-case basis, and will be provided accordingly.
*The Waiver requests must be made during the submission process and will not be accepted after processing of the manuscript.
Withdrawal Charges
Please check our Refund Policy
Are reprints of my article included in the article processing charges (APCs)?
No, Article processing charges (APCs) do not include the charges for the reprints. Reprints facility is optional and should be order separately.
For more details you can refer to FAQs or contact us support@sciencerepository.org