Damage Control Laparotomy for Severe Typhoid Fever: A Case Report
A B S T R A C T
Persistent intra-abdominal sepsis is a challenging complication of abdominal typhoid with a high mortality and difficult to manage. Delayed perforations following initial operative intervention is one of the rarer complications of this disease, causing wound breakdown and open abdomen, resulting in fistula. We present the management of a rare case, which presented with multiple perforations and multiple organ system dysfunction then complicated post-operatively with multiple fistula and open abdomen.
Keywords
Abdominal typhoid, fistula, sepsis, laparostomy, damage control laparotomy
Introduction
Typhoid fever is a bacterial disease caused by Salmonella typhi, transmitted by the ingestion of contaminated food or drink. The most serious complication of typhoid fever is Typhoid Intestinal Perforation (TIP) which is still associated with high mortality in developing countries where the disease is more prevalent [1, 2].
Case Presentation
A 12-year-old male patient was brought to A&E with peritonitis and high fever. He had been unwell during the preceding two weeks. His laboratory examination showed markedly elevated white cell count, anemia, acidosis and acute kidney injury. Chest x-rays showed free intraperitoneal gas.
After resuscitation, the patient had a damage control laparotomy whose findings was generalized fecal contamination, friable proximal small bowel, multiple terminal ileal, caecal and ascending colon perforations. Right hemicolectomy and wash out was done. The bowel ends were stapled, temporary bogota bag closure of the abdomen was done. The patient stayed in intensive care unit for 2 days then taken back to theatre for a redo where a terminal ileostomy was fashioned as small bowel looked healthier. His blood culture grew Salmonella typhi.
One week following surgery, however, the patient developed complete abdominal dehiscence (Figures 1 & 2) managed as laparostomy then he developed further perforations that required abdominal wash-out and intubation of the fistulae (Figures 3 & 4). Meanwhile the open abdomen was managed by a wound pouch bag which was used as well for a non-healing fistula that developed in the epigastric region. This management, with nutritional repletion-initially total parenteral nutrition for two weeks with tapering-off and full enteral nutrition by the end of the third week, during which time control of the sepsis was achieved, was successful as the wound became covered with granulation tissue followed by epithelialization around the fistula site (Figure 5). The ileostomy that was distal to the fistula continued functioning. The patient was discharged for out-patient care after 12 weeks. Later, after a period of 12 months, the ileostomy reversal and resection of the fistula was done and the patient recovered uneventfully.
Learning Points
Perforations in typhoid can continue even after surgical management of the index perforations owing to the necrosis of Peyer's patches [3]. Prompt surgical intervention is key to prevent mortality in severe typhoid fever perforations [4]. In the management of a septic abdomen in an unstable patient, initial damage control laparotomy can be deployed, followed by definitive surgery after stabilization, or laparostomy with peritoneal lavage as required.
Fistulae in an open abdomen can be managed by wound pouch bags that would control the effluent and protect the skin thus allowing granulation tissue formation and possible spontaneous closure of the fistula or conversion to use of regular stoma bags till definitive surgery is done. This is a simple and cost-effective technique.
Article Info
Article Type
Case Report
Publication history
Received: Fri 05, Jun 2020
Accepted: Fri 03, Jul 2020
Published: Thu 09, Jul 2020
Copyright
© 2019 Abdirahaman Nuno. This is an open-access article distributed under the terms of the Creative Commons Attribution License, which permits unrestricted use, distribution, and reproduction in any medium, provided the original author and source are credited. Hosting by Science Repository. All rights reserved.
DOI:
10.31487/j.AJSCR.2020.03.07
Figures & Tables
Figures 1 & 2: Wound completely open end of week 1 due to new perforations and on-going sepsis.
Figure 3: End of week 3: healthy granulation tissue forming over bowel and fistulas controlled by insertion of Foley's catheters that were gradually withdrawn after output ceased.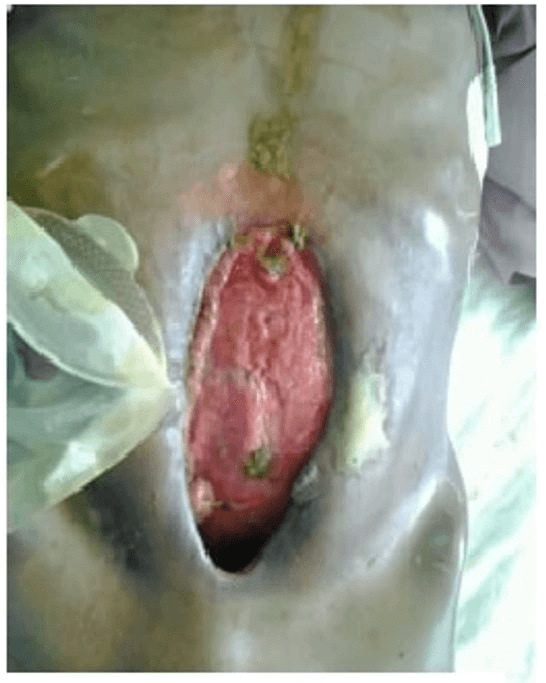 Figure 4: Wound granulated well on week 8, fistula in epigastrium, controlled by application of wound pouch bag.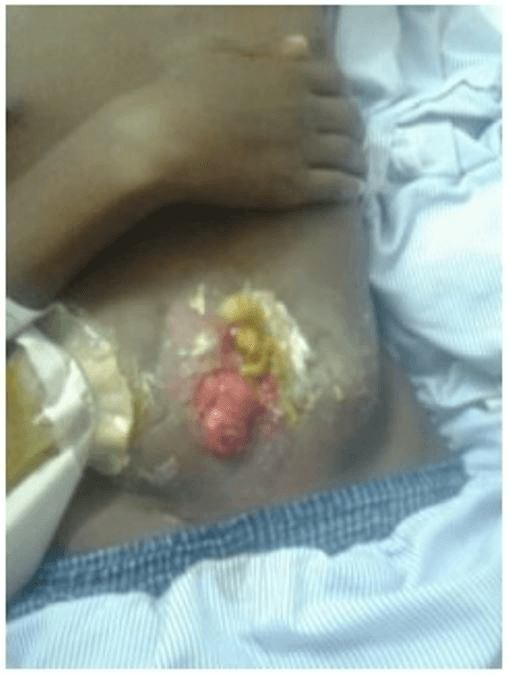 Figure 5: The wound contracted, with prolapsed bowel containing the fistula, definitive surgery done- component separation, resection of fistula and ileostomy reversal.