Chinese Journal of Surgical Oncology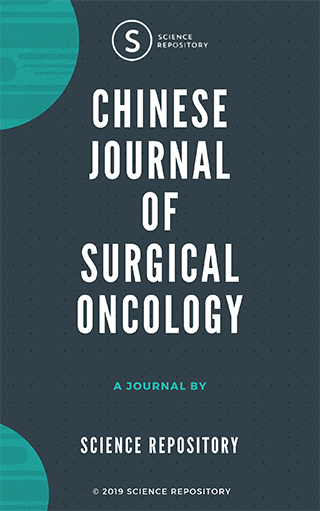 All the work at Science Repository is licensed under a Creative Commons Attribution 4.0 International License. Authors at Science Repository retain copyright to their work and allow others to copy, distribute, transmit, and adapt their work, provided proper attribution is given.



This license lets others distribute, remix, tweak, and build upon your work, even commercially, as long as they credit you for the original creation. View License Deed | View Legal Code

For submission authors can directly submit manuscript to submitmanuscripts@sciencerepository.org
Manuscripts number will be provided to the corresponding author within 72 hours for the respective manuscript submitted.
14 day review process with international peer-review standards
Timeline of processing from Submission to Publication is 30 days
Manuscript will be published within 7 days of acceptance
In Press Volume 1, Issue 1
Editor-in-chief
Will be updated soon
Editorial board
Shuen-Kuei Liao
Taipei Medical University
Taiwan, Province of China
Biography
Upon completion of his doctorate in cancer immunology at McMaster University, Canada in 1970, followed by three years of postdoctoral training at the University of Toronto, Dr. Liao joined Department of Pathology, McMaster University to be Assistant Professor to Associated Professor, where he also directed oncology research at the Ontario Cancer Research Foundation, Hamilton Branch. During the following 21 years, he spent most of his efforts and time in cancer immunology research, asides from teaching responsibility. In 1986, he was recruited by Bio therapeutic in Franklin, TN as Director of Academic Affairs and Chief of Monoclonal Antibody Division, where he participated in a number of clinical studies with the use of immune conjugates and cellular adoptive cell therapeutics for cancer patients. In 1991, Dr. Liao moved to Taiwan to accept a Professor position at Graduate Institute of Clinical Medical Sciences, Chang Gung University. In 2010, Dr. Liao took on the position of Professor and Director of Cancer Immunotherapy Center at Taipei Medical University Hospital, Taipei. Currently, he is Chief Scientific Officer of Vectorite Biomedica Inc, Tapei, Taiwan and Visiting professor of Taipei Medical University. His research interests are in cancer immunotherapy, transplantation immunology, and stem cells biology. He authored/coauthored over 200 peer-reviewed publications, and numerous book chapters and reviews.
D Raghunadharao
Homi Bhabha Cancer Hospital & Research Centre
India
Biography
Raghunathrao Digumarti was born in India. He got his MBBS from Andra Medical College,Andhra University.He got his MD from Post Graduate Institute of Medical Education and Research from Punjab University. he Got his DM in Oncology from Cancer institute from University of Madras.He Worked as Professor of Medical Oncology at Nizam's Institute of Medical Sciences, Hyderabad from Feb 2003 to Dec 2013. At present He is the Director of Homi Bhabha Cancer Hospital and Research Center, Vishakapatnam.
Ahmad R. Safa
professor
Department of Oncology
Indiana University
United States
Biography
Professor Safa received his Ph. D. in MCDB in 1980 from Iowa State University.In 1987, he accepted a position as an Assistant Professor of Medicine at the University of Chicago and was Director of the Laboratories of Pharmacology and Pharmacokinetics, and Molecular Pharmacology, respectively in the Section of Hematology/Oncology from 1990-1996. In 1996, he accepted a tenured Associate Professor Position in the Department of Experimental Oncology, Medical University of South Carolina (MUSC), and was promoted to tenured Professor in 1999. Dr. Safa was Director of the Drug Resistance Program at Hollings Cancer Center at MUSC from 1998-1999. In 1999, he joined the faculty of the Indiana University School of Medicine as H.H. Gregg Professor of Cancer Research, and Professor of Pharmacology and Toxicology. Dr. Safa is also Director of the Graduate Program in the Department of Pharmacology and Toxicology.Dr. Safa served on the Experimental Therapeutics 1 Study Section at the NCI from 1988-2002, has been an Ad hoc Grant Reviewer, Center for Scientific Review, Drug Discovery and Molecular Pharmacology Study Section since 2003, Tumor cell Biology (TCB) Study Section, and Department of Defense (DOD) since 2007. He has been a member of the Editorial Board of International Journal of Cell Science & Molecular Biology (IJCSMB), Journal of Cancer Research and Therapeutic Oncology. Drug Research and Development, World Journal of Pharmacology, Medicinal Chemistry, Journal of Drug Metabolism and Toxicology, International Journal of Biochemistry and Molecular Biology, Journal of Cell Death, Molecular Cancer Therapeutics, and Investigational New Drugs.
Nikolaos A. Papanikolaou
Assistant Professor
Department of Biological Chemistry
Aristotle University
Greece
Biography
Professor Nikolaos A. Papanikolaou obtained his BS degree in Chemistry/Biology from Manhattan College in New York, USA, his MS and Ph.D. in Biochemistry and Molecular Biology in New York Medical College in New York. He was a Molecular Biologist at American Cyanamid Company (later Pfizer). He was awarded the prestigious Ruth Kirschtein National Research Service Award at the Department of Genetics and Development at Columbia University. He did his post-doctoral studies in Biochemistry and Biophysics at Columbia University's Institute for Cancer Genetics and the Departments of Pathology, Genetics and Development. He then moved to the Ludwig Institute for Cancer Research, Branch at Memorial Sloan Kettering Institute for Cancer Research in New York where he was Group Leader and Bioanalyst. In 2009 he joined the faculty of the Laboratory of Biological Chemistry at Aristotle University of Thessaloniki where he remains until today. Dr. Papanikolaou was awarded a prestigious Hopkins-Libra fellowship to study protein methylation using proteomics at Johns Hopkins University School of Medicine and continues to serve as visiting Professor at the Department of Biological Chemistry at Johns Hopkins University and at the Institute for Genetic Medicine. Dr. Papanikolaou's interests lie in oncogenic mechanisms by zinc-finger proteins, protein Argine/Lysine methylation modifications and the role of protein-protein interactions in differentiation, cancer, stress and neurodegenerative diseases. His technical expertise includes protein chemistry, biochemistry and biophysics and analysis of protein structure-function.
Phillip Nicholas Victor Blondeel
Department of Plastic Surgery
University Hospital Gent
Belgium
Biography
Phillip Blondeel, (Rochester (New York), United States, 20 in May one thousand nine hundred and sixty-three) is a Belgian plastic surgeon. He is associate professor at the University of Ghent and Professor at the Department of Plastic and Reconstructive Surgery of the University Hospital Ghent. Blondeels specialty tissue transplants within the same body, especially in the sub-area of breast reconstruction. He performed the first face transplant in Belgium.
Paul E. Sijens
University Medical Center Groningen
Netherlands
Biography
Paul E. Sijens obtained his chemistry PhD in 1988: "31P NMR spectroscopy of tumors in the evalu-ation of respon¬se to therapy" (Universiteit Utrecht). After doing a postdoc at Cleveland Clinic (1989-1991) and being in charge of clinical MR spectroscopy at Daniel den Hoed Cancer Center (1991-2000), he has been head of MRI research at Radiology UMCG and, since 2002, associate professor (RUG). Functions include faculty membership of the European School of Radiology (ESOR), board membership of Research Foundation Flanders and 26 editorial boards of scientific journals including European Radiology and JMRI (deputy editor) He is author of 115 A1-papers cited 1946 times (mean IF 3.9; H-index 26).
Matthias Bernhard Stope
Molecular Biologist
Department of Urology
University Medicine Greifswald
Germany
Biography
Matthias B. Stope (PhD, MD) is a molecular biologist working in the cancer laboratory at the Department of Urology at the University Medicine Greifswald, Germany. He studied chemistry and biology and is a member of several editorial boards of international journals and scientific societies.
Frank A. Baciewicz
Professor
Wayne State University
Michigan, United States
Biography
Frank A. Baciewicz completed his B.A at Williams College Massachusetts in the year 1970 – 1974 and M.D at University of Virginia School of Medicine in the year 1974-1978. He did his training in Pediatric Cardiac Transplantation at Loma Linda University, Canada in the year 1986, Heart, Heart-Lung Transplantation at University of Pittsburgh, Pittsburgh in the year 1986, Fellowship in Cardiothoracic Surgery at University of Pennsylvania, Philadelphia during 1983-1985, Surgical Residency during 1979-1983 and Surgical Internship during 1978-1979 at Northwestern University, Chicago. He worked as Assistant Professor of Surgery at Medical College of Ohio during July 1985 – July 1989, Associate Professor of Surgery at Medical College of Ohio during July 1989 – April 1990, Associate Professor of Surgery at Wayne State University, Michigan during April 1990 – August 2005 and currently he is working as Professor of Surgery at Wayne State University, Michigan from August 2005.
Yasser El-Sherbini
Specialist
Process Development and Stem cells
University of Oxford
United Kingdom
Biography
Dr. Yasser El-Sherbini is specialist in Process Development and Stem cells and done his DPhil in Clinical Pharmacology. He is now working in Linacre College, Oxford University, UK. His research interests include Consultancy/Business Development, Flow cytometry, Life Science/Healthcare R&D, Stem cells, Biotechnology, Regenerative Medicine, Bioreactors, RTPCR.
Shigeo Masuda
Associate Professor
Osaka University Graduate School of Medicine
Osaka, Japan
Biography
Dr. Shigeo Masuda received his MD from the University of Tokyo in 1996, and PhD in Hematology/Oncology from the Graduate School of Medicine, University of Tokyo, Japan. He was an Assistant Professor and an Associate Professor at Jichi Medical University, Japan, from 2007 to 2012, and joined RIKEN CDB in 2011. He studied at the Belmonte Lab in the Salk Institute from 2012 to 2014. Currently, he is an Associate Professor of Cardiovascular Surgery in Osaka University, Japan. His interest is regenerative medicine using iPS-derived cells, including molecular targeted therapy for iPS-derived undifferentiated cells to improve safety.
Donna Elizabeth Maziak
Professor
University of Ottawa
Canada
Biography
Dr. Maziak graduated from medical school from McGill University and went to the University of Toronto for her residencies in General Surgery and Thoracic Surgery. She worked for 2 years at Toronto General Hospital and completed her master's in clinical Epidemiology at McMaster's University. She then was recruited to Ottawa at the Ottawa Hospital, general campus where she is now full Professor and co-Director of the Communities of Practice for Lung in the Champlain LHIN and the surgical lead for Cancer Transformation at TOH.
Deng Xiyun
Professor of Pathophysiology
Central South University
China
Biography
Deng Xiyun received my M.S. and Ph.D. degree from Cancer Research Institute, Xiangya Medical College (now part of Central South University) in Pathophysiology/Cancer Biology in 1994 and 2006, respectively. I accepted my visiting scholarship at the NIH from 1997 to 1999. I completed my postdoctoral training at Wayne State University and Ohio State University between 2001 and 2005 and became a faculty member of the Translational Research Center at the University of Texas Health Science Center-Houston in 2010. I joined Hunan Normal University Medical College in 2012 and am currently full professor and Chair of the Department of Basic Medical Sciences.
Shhyam Moorthy
The University of Texas, M.D. Anderson Cancer Center
United States
Jing Zhang
University of North Lineberger , Comprehensive Cancer Center
United States
John W. Longshore
Carolinas Pathology Group and Carolinas HealthCare System
United States
Pankaj Srivastava
Consultant surgeon
Om Surgical Center
India
Mikhail A. Pyatnitskiy
Institute of Biomedical Chemistry
Russian Federation
Ya-Fan Liao
Department of Applied Chemistry
Chaoyang University of Technology
Taiwan, Province of China
Kaushal Kishor Prasad
Postgraduate Institute of Medical Education and Research (PGIMER)
India
Sunil K. Arora
Postgraduate Institute of Medical Education & Research
India
Alireza Heidari
California South University
United States
Xiaobo Liu
School of Biological Sciences, The University of Hong Kong
Hong Kong
Sacide Pehlivan
Professor
Department of Medical Biology
Istanbul University
Turkey
Robson Jose De Oliveira
professor
Genetics and Biochemistry Institute, Federal University of Uberlandia
Brazil
Lizziane Kretli Winkelstroter
professor
Faculty of Pharmaceutical Sciences
University of São Paulo
Brazil
Mark A. Sheridan
Texas Tech University
United States
Huazhong Shi
Associate Professor
Department of Chemistry and Biochemistry
Texas Tech University
United States
Fei Han
Department of Radiology
Washington University School of Medicine in Saint Louis
United States
Sarvajeet Singh Gill
Assistant Professor
Agriculture Biotechnology
Centre for Biotechnology, MD University
India
Ashraf Yusuf Rangrez
Department of Molecular Cardiology and Angiology
Westring 346 University Medical Center Kiel
Germany
Antonio Sanchez Pozo
Professor
Department of Biochemistry and Molecular Biology
University of Granada
Spain
Srinivas Parthasarathy
Department of Psychiatry and Behavioral Sciences
Stanford University
United States
Namita Kumari
Research Associate
Department of Medicine Howard University College of Medicine
United States
Current Issue
We are currently preparing the current issue.
Submit Manuscript
You can submit your manuscript at Science Repository. Authors submit manuscript files and metadata & can request for revision. Editors use the system to review submissions, assign to reviewers, and make and communicate decisions to accept, revise, transfer or reject manuscripts. Reviewers are invited to work on manuscripts, can accept or reject assignments.
For submission authors can directly submit manuscript to submitmanuscripts@sciencerepository.org
Manuscripts number will be provided to the corresponding author within 72 hours for the respective manuscript submitted.
14 day review process with international peer-review standards
Timeline of processing from Submission to Publication is 30 days
Manuscript will be published within 7 days of acceptance
Publication Charges
Chinese Journal of Surgical Oncology is an Open Access journal and we do not charge the end user when accessing a manuscript or any article. This allows the scientific community to view, download, distribution of an article in any medium, provided that the original work is properly cited, under the term of "Creative Commons Attribution License".
In line with other open access journals we provide a flat fee submission structure on the acceptance of a peer-reviewed article which covers in part the entirety of the publication pathway (the article processing charge). The process includes our maintenance, submission and peer review systems and international editing, publication and submission to global indexing and tracking organisations and archiving to allow instant access to the whole article and associated supplementary documents. We also have to ensure enough investment to secure a sustainable model which ethically, legally and financially stable.
The publication charge for Chinese Journal of Surgical Oncology is £ (GBP) 1099.
Frequently Asked Questions (FAQs)
Why do we charge?
All articles published in Science Repository are open access. Open Access publishing implies that all readers, anywhere in the world, are allowed unrestricted to full text of articles, immediately on publication in Science Repository Journals. The Article Publication Charges pay for the editorial and production costs of the journal, for hosting the website, publishing articles online, preparing HTML , PDF and XML versions of the articles and submitting the articles in electronic citation database like CrossRef.
Our financial goals are to:
Maintain the portal for best experienece
Recover capitalization cost
Produce sufficient revenue to allow for a sustainable and scalable publishing program, under continuous development
Although we charge the minimum possible but we will reduce the publication-charge cost downward over time.
When should I pay?
Corresponding author or the paying institutions should arrange for the payment once they are notified regarding acceptance of the article. APC is exempted for cases in which a wavier agreement has been made in-prior to submission.
*We request an immediate attention towards the payment as the articles will not be published unless the charges have been paid.
Who will pay the APC (Article Processing Charges)?
Corresponding author or Co-authors has to make the payment on acceptance of the article.
How do I pay?
Authors or institutions can make payments by two modes as per their convenience.
Note: No taxes are included in this charge, taxes will be applicable as per the policies of the country of the payee. Additional transaction gateway charges may be levied on the payee.
Do I have to pay if my manuscript is rejected?
No, Article processing charges will not be applicable for articles rejected by the Editorial office.
Can I be eligible for wavier on APC?
The waiver request will be considered on a case-by-case basis, and will be provided accordingly.
*The Waiver requests must be made during the submission process and will not be accepted after processing of the manuscript.
Withdrawal Charges
Please check our Refund Policy
Are reprints of my article included in the article processing charges (APCs)?
No, Article processing charges (APCs) do not include the charges for the reprints. Reprints facility is optional and should be order separately.
For more details you can refer to FAQs or contact us support@sciencerepository.org
Archive
We are currently preparing the archive. Will be updated soon.