Journal Cardiovascular Diseases & Diagnosis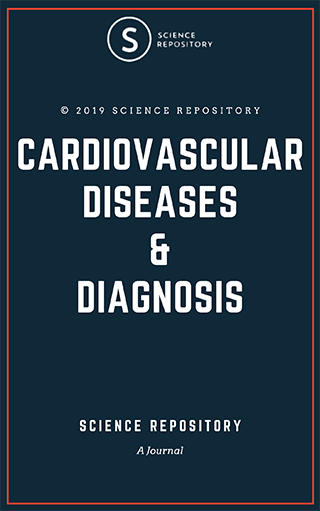 Archived
This journal has been put to indefinite archive position. As all published articles are archived irrespective of their continuous publication, articles published in this journal will be always available in our site.
All the work at Science Repository is licensed under a Creative Commons Attribution 4.0 International License. Authors at Science Repository retain copyright to their work and allow others to copy, distribute, transmit, and adapt their work, provided proper attribution is given.



This license lets others distribute, remix, tweak, and build upon your work, even commercially, as long as they credit you for the original creation. View License Deed | View Legal Code

For submission authors can directly submit manuscript to article@sciencerepository.org
Manuscripts number will be provided to the corresponding author within 72 hours for the respective manuscript submitted.
14 day review process with international peer-review standards
Timeline of processing from Submission to Publication is 30 days
Manuscript will be published within 7 days of acceptance
In Press Volume 1, Issue 1
Editor-in-chief
Will be updated soon
Editorial board
Thanasekaran Jayakumar
Senior Researcher
Department of Pharmacology
Taipei Medical University
China
About Me
Thanasekaran Jayakumar is a Senior Research Scientist in the Department of Pharmacology, Graduate Institute of Medical Sciences, Taipei Medical University, Taiwan. Dr. Jayakumar gained his Ph.D. in Environmental Sciences in 2008 from the Bharadhidasan University, India. He has been conducting an independent honor's research work at Taipei Medical University for the past 11 years in the field of cardiovascular diseases. Without a doubt, he is one of those rare individuals; he is highly intelligent, inquisitive, motivated, and creative. His contribution is being important to science and technology, as he is an expert in molecular biology with special reference to the therapeutic value of natural products and metal compounds for human diseases. However, what is noteworthy is that he counts 85 research papers and 9 review papers in peer-reviewed journals, with few more in the pipeline, and he acts as referee for several specialty journals. During his masters and Ph.D.'s, he has received few special awards for his outstanding contribution to life sciences and environmental sciences. Dr. Thanasekaran Jayakumar won the 'Outstanding Researcher Award' from Taipei Medical University for the years 2013- 2018. His total citation is 1600.
Saima Mushtaq
Assistant
Cardiovascular Imaging Department, Centro Cardiologico Monzino
Centro Cardiologico Monzino, IRCCS, Milan, Italy
Milan, Italy
About Me
Saima Mushtaq is a physician, with a postgraduate in Cardiology (2012), who has dedicated her clinical and scientific activity to Heart Failure and Cardiovascular Imaging. Nowadays, she is part of the Cardiovascular Imaging department at Centro Cardiologico Monzino, IRCCS, Milan, particularly of Echocardiography, Coronary CT Angiography and Cardiac MRI, with 100 articles published in peer-reviewed International Journals with Impact Factor regarding this topic more than 500 abstracts presented in many national and international congresses. She had part of several multicenter trials and she is the coordinator of many international trials.
Stefanos Roumeliotis
Nephrologist
Division of Nephrology and Hypertension, 1st Department of Internal Medicine
Aristotle University of Thessaloniki
Thessaloniki, Greece
About Me
I was born in Thessaloniki in 1982 and graduated from the Medical School of Ioannina, Greece in 2007. After 10 years of medical training, I was specialized in Nephrology and my Ph.D. is in the area of vascular calcification and cardiovascular disease in CKD patients. My areas of interest and expertise also include oxidative stress and diabetic nephropathy. I am currently occupied as a scientific researcher in Division of Nephrology and Hypertension, 1st Department of Internal Medicine, AHEPA Hospital, School of Medicine, Aristotle University of Thessaloniki
Andrea Montalto
Cardiac surgery
San. Camillo hospital
Rome, Italy
About Me
I m a cardiac surgeon skilled in the treatment of Heart failure. I m the person responsible for the VAD program at San Camillo hospital in Rome.
Massimo Antonio Padalino
Professor
Department of Cardiothoracic, Vascular disease and Publich Health
university of Padova, Italy
Italy
About Me
I am currently an Associate Professor of Cardiac Surgery at the University of Padova, medical School, founded in 1222 AD. I am a Ph.D. in cardiac Sciences and I have 2 masters in Cardiac Pathology and Pediatrics. My current clinical duties include: - surgical operation of all kinds of congenital heart disease (neonates to adults) - septal defects in the minimally invasive approach - Transatrial repair of tetralogy of Fallot with pulmonary valve preservation - Arterial switch for transposition of the great arteries - Neonatal repair of coarctation interrupted aortic arch, - Hybrid/staged repair for hypoplastic left heart syndrome - clinical consults in the outpatient clinic, and in other peripheral (SPOKE) hospitals which have my institution as HUB center for congenital heart disease - clinical and pharmacological management of the postoperative course of patients in Cardiac Intensive Care Unit and in the wards - sharing monthly outcalls, for a total of 15 days/months of calls coverage During my training, I was a clinical fellow at Mayo Clinic, where I gained valuable experience working alongside Dr. Gordon Danielson who taught me surgical management of complex congenital heart disease in adults. During my stay in Boston Children's Hospital and Mott Children's Hospital at University of Michigan, I was lucky enough to work with Dr. Pedro del Nido,  Dr. Richard Jonas, and Dr. Edward Bove, who trained me in early repair of most congenital heart diseases such as AV septal defects, tetralogy of Fallot, TGA, and the management of  HLHS. Since returning to the University of Padua, I have continued to explore new techniques, such as a minimally invasive approach and hybrid procedure for the repair of simple congenital heart diseases (ASD, VSD, PAPVD), and reconstruction of the pulmonary valve in tetralogy of Fallot during transatrial repair. I am proud to have developed a Pediatric VAD program and a cutting-edge  HUB&SPOKE ECMO program. My most recent training experience in the USA was with Johns Hopkins University Hospital in 2015, where I worked with a multidisciplinary team of physicians, surgeons, and scientists (including Dr. Duke Cameron, Dr. Luca Vricella, and Dr. Hal Dietz), to learn the Aortic valve-sparing technique - one of my academic interests.  As an academic, I enjoy researching the latest breakthrough and learning about best practices in the field of Congenital heart disease. I am actively investigating topics such as evaluation of neurological and pulmonary outcomes after cardiopulmonary bypass in children undergoing surgery for congenital heart disease, results of pulmonary valve repair, in tetralogy of Fallot, neonatal coarctation repair, surgery for the anomalous aortic origin of coronary arteries (as coordinator of a prospective European registry). I also like sharing my findings with students and trainees whom I usually involved in my projects. I attend international meetings as both a presenter and a participant to update my knowledge in the management of CHD. For example, I have been presenting my research at the annual EACTS meeting in Europe in the last three years. I have led several multicenter clinical studies that have allowed me to gain experience and knowledge in several topics, and also foster professional friendships all over the world.  I took an active part in some prestigious EU-funded clinical research projects as a partner. I am part of the scientific committee of the Italian Society of cardiac surgery and the European Congenital Heart Surgeons Association (ECHSA).
Ahmed Aburima
Independent Research Fellow
Hull York Medical School
University of Hull
United States
About Me
I am an Independent Research Fellow at the Hull York Medical School (HYMS) with over fifteen years of progressive research and academic experience in the area of thrombosis, hemostasis, and cardiovascular disease.
Ammar Ashor
Department Of Internal Medicine
Newcastle University, United Kingdom
United Kingdom
About Me
I am an adaptable and personable team player, experienced in managing projects and leading a team. I have 14 years of experience in clinical, academic and biomedical research, producing high quality, peer-reviewed papers in the fields of Pharmacology and Nutrition. I am now looking to bring together my passion for innovation, a solid grounding in medicine and extensive knowledge of scientific research to fulfill my ambition of moving into a deeper understanding of endothelial function at the molecular level.
Farahnaz Sadegh Beigee
Associate Professor
Thoracic Surgery
Masih Daneshvari Hospital (NRITLD), Shahid Beheshti University of Medical Sciences Tehran
Tehran, Islamic Republic of Iran
About Me
Farahnaz Sadegh Beigee has a research experience in following areas:
Evaluation of etiology of the delay in treatment of pleural empyema in our center, a prospective project. Project granted by Shahid Beheshti University of Medical Sciences (2015)
Evaluation of the delay in appropriate treatment of lung cancer in patients referred to our center. Project granted by Shahid Beheshti University of Medical Sciences (2015)
Jaison Jeevanandam
Researcher
Department of Chemical Engineering
Curtin University
Malaysia
About Me
Dr. Jaison Jeevanandam obtained his Ph.D. in the Department of Chemical Engineering, Faculty of Engineering and Science from Curtin University, Malaysia. His Ph.D. project focused on the development of a novel nanomedicine for reversing insulin resistance in Type 2 diabetes. He has experience in nanoparticle synthesis, especially in the green synthesis using plant extracts, characterization, cytotoxic analysis of nanoparticles, and in vitro analysis in diabetic models. His current research focuses on the application of bionanotechnology in the development of nanoformulations for drug delivery. Dr. Jaison has authored about 15 book chapters and 22 journal articles along with some conference papers.
Haocheng Lu
Postdoctor Fellow
Department Of Internal Medicine
Univerisity of Michigan
Ann Arbor, United States
About Me
Currently, I am a research fellow in the Department of Internal Medicine at the University of Michigan. My research interest includes cardiovascular disease, metabolic disease, endothelial cell biology, smooth muscle cell biology, lipid metabolism.
Bruno Silva Lemos
Postdoctoral Fellow
Nutritional Sciences
University of Connecticut Storrs-CT, USA
Storrs-CT, United States
About Me
Bruno Silva Lemos has a research experience & Invited Lecturer in the following areas: Molecular oncology to identify mechanisms for tumor progression in colorectal cancer in vitro, in vivo and in humans using various biomolecular, cellular, immunohistochemical and biochemical techniques - Clinical trial investigating the effects of walnut consumption information of urolithins via the gut microbiota composition with the objective to identify anti-inflammatory properties in healthy individuals coming for screening colonoscopy - Cross-sectional study collecting biopsy samples and demographic data in patients coming for screening colonoscopy to identify risk factors for colon cancer - Analyze large database for patients with early and advanced carcinomas with objective to show potential contributors to colon cancer development .
As well as He is a writer of some famous book -
Hong B, Ideta T, Lemos BS, Igarashi Y, Tan Y, DiSiena M, Mo A, Birk JW, Faripour F, Devers TJ, Weinstock GM, Rosenberg DW. Characterization of Mucosal Dysbiosis of Early Colonic Neoplasia. 2019.

Al-Yousef HM, Lemos BS, Thomas MS, Melough M, Chun OK, Fernandez ML. Low Plasma HDL Cholesterol is Associated with Greater Risk for Cardiovascular Disease in Subjects with Metabolic Syndrome. 2019. Curr. Topics in Biochemical Research.  Initial contributors to colon cancer development .
Uwe Nixdorff
Department Of Cardiology
Germany
Current Issue
We are currently preparing the current issue.
Submit Manuscript
You can submit your manuscript at Science Repository. Authors submit manuscript files and metadata & can request for revision. Editors use the system to review submissions, assign to reviewers, and make and communicate decisions to accept, revise, transfer or reject manuscripts. Reviewers are invited to work on manuscripts, can accept or reject assignments.
For submission authors can directly submit manuscript to article@sciencerepository.org
Manuscripts number will be provided to the corresponding author within 72 hours for the respective manuscript submitted.
14 day review process with international peer-review standards
Timeline of processing from Submission to Publication is 30 days
Manuscript will be published within 7 days of acceptance
Publication Charges
Cardiovascular Diseases & Diagnosis is an Open Access journal and we do not charge the end user when accessing a manuscript or any article. This allows the scientific community to view, download, distribution of an article in any medium, provided that the original work is properly cited, under the term of "Creative Commons Attribution License".
In line with other open access journals we provide a flat fee submission structure on the acceptance of a peer-reviewed article which covers in part the entirety of the publication pathway (the article processing charge). The process includes our maintenance, submission and peer review systems and international editing, publication and submission to global indexing and tracking organisations and archiving to allow instant access to the whole article and associated supplementary documents. We also have to ensure enough investment to secure a sustainable model which ethically, legally and financially stable.
The publication charge for Cardiovascular Diseases & Diagnosis is £ (GBP) 1099.
Frequently Asked Questions (FAQs)
Why do we charge?
All articles published in Science Repository are open access. Open Access publishing implies that all readers, anywhere in the world, are allowed unrestricted to full text of articles, immediately on publication in Science Repository Journals. The Article Publication Charges pay for the editorial and production costs of the journal, for hosting the website, publishing articles online, preparing HTML , PDF and XML versions of the articles and submitting the articles in electronic citation database like CrossRef.
Our financial goals are to:
Maintain the portal for best experienece
Recover capitalization cost
Produce sufficient revenue to allow for a sustainable and scalable publishing program, under continuous development
Although we charge the minimum possible but we will reduce the publication-charge cost downward over time.
When should I pay?
Corresponding author or the paying institutions should arrange for the payment once they are notified regarding acceptance of the article. APC is exempted for cases in which a wavier agreement has been made in-prior to submission.
*We request an immediate attention towards the payment as the articles will not be published unless the charges have been paid.
Who will pay the APC (Article Processing Charges)?
Corresponding author or Co-authors has to make the payment on acceptance of the article.
How do I pay?
Authors or institutions can make payments by two modes as per their convenience.
Note: No taxes are included in this charge, taxes will be applicable as per the policies of the country of the payee. Additional transaction gateway charges may be levied on the payee.
Do I have to pay if my manuscript is rejected?
No, Article processing charges will not be applicable for articles rejected by the Editorial office.
Can I be eligible for wavier on APC?
The waiver request will be considered on a case-by-case basis, and will be provided accordingly.
*The Waiver requests must be made during the submission process and will not be accepted after processing of the manuscript.
Withdrawal Charges
Please check our Refund Policy
Are reprints of my article included in the article processing charges (APCs)?
No, Article processing charges (APCs) do not include the charges for the reprints. Reprints facility is optional and should be order separately.
For more details you can refer to FAQs or contact us support@sciencerepository.org
Archive
We are currently preparing the archive. Will be updated soon.